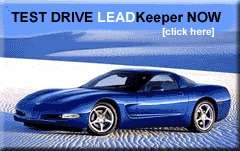 Your Service and Parts departments are important revenues centers for your organization - now you can recognize them and promote these essential departments to your customers.
Our LEADKeeper program is designed to continually place your service and parts departments in front of your customers, offering special incentives and promotions in each newsletter sent.
Our "Instant Promo" feature allows you to contact either your parts or service customers independently with special offers and incentives instantly – giving those departments a boost any time!!
Plus, you are now reminding your parts and service customers about your vehicle offerings on a regular basis, turning ancillary product customers into core product prospects.