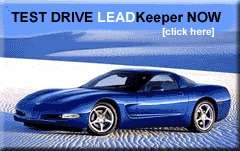 Businesses are only beginning to learn how powerful and effective the Internet can be to communicate to prospects and customers.
Surveys show more car buyers performing research on the Internet prior to visiting dealers. With our newsletter offer prominently featured on your site, you build your database whether your visitors enter your showroom or simply visit your web page - even at two a.m!
You can perform data entry from any web connection, so data entries can be made at any time - from virtually any location! Perfect for off-site promotions, etc. While you are entering new prospects into the database from an event, your salespeople are entering them from the sales floor!