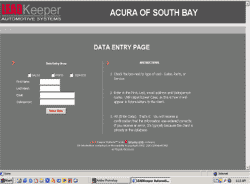 In only seconds you can now add prospects and customers to a database that will ensure proper follow-up and contact forever.
Every computer terminal with an Internet connection has access to your dealership's entry page. Simply log in, enter your user name and password and you're in!
Once you've logged into the system, there are only four items to enter per customer. The customer's first name and last name; their email address; the salesperson's name and the type of customer - sales, parts or service. The entire process to enter a customer takes less than 15 seconds. That is it. You're done. LEADKeeper picks up from there and automatically schedules the predetermined follow-up.
View Samples Below
SALES CUSTOMERS: If the customer was a new or used car sales customer:
PARTS CUSTOMERS: If the customer was in the parts department:
SERVICE CUSTOMERS: If they brought their car in for service:
ALL CUSTOMERS AUTOMATICALLY GET ON YOUR NEWSLETTER LIST.